Tailgate & Football Game
Main Content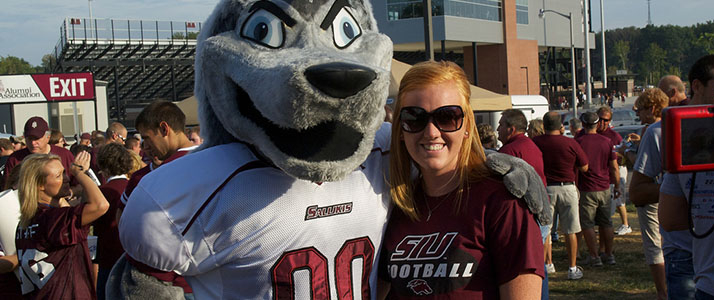 Saturday, October 14
---
Football Pre-Game Tailgating
Time: 11 a.m.-2 p.m.
South of Saluki Stadium
Bring your grill and all your family and friends to one of the open parking areas near Saluki Stadium for fun tailgate activities. Many spaces are filled in advance so be sure to view the tailgate policy for all the information you need to enjoy a great college game day at SIU.
Parking areas are open for tailgating five (5) hoursprior to kick-off (Saluki-Row being open three (3) hours prior to kick-off) and are free to the public. No reservations are required. If you are interested in reserving a spot for your group in the official tailgating location on Saluki Row or other tailgating questions call Saluki Athletics at 618/453-5408. We take care of all the area set-up and clean-up for you, which allows you to be walking distance from Saluki Stadium on game day!
For game information, check out Saluki Athletics.
SIU Tailgate/Alcohol Policy (pdf)
---
Southern Illinois University vs. Illinois State University
2 p.m.
Saluki Stadium